Teens & children's clubs
Clubs to keep children happy
The ideal campsite for your kids? The Yelloh! Village Médoc Océan, where else! Everything has been carefully planned with them in mind, so they can have fun all day long with their new friends. Our qualified organisers are waiting to welcome them to our children's clubs, each according to their age group. Here, they'll find activities galore, all perfectly adapted for them and offering exactly what they want to do! The youngest will adore the handicrafts: painting, drawing… plus plenty of outdoor activities and even the campsite's mini-disco.
For those a little older there'll be sports tournaments: football, basketball, table tennis… From 5 to 12 years old, your kids are bound to find an activity they'll love in one of our clubs.
Club Kids & Juniors: 5-12 years

High season

Your kids are going to adore working off all that pent-up energy and having fun at the Kids & Juniors' Club. The organisers are already planning some amazing activities:

Handicrafts
Sports and fun activities
Outdoor games
Tournaments
Mini-disco
Kids' Clubs opening times
Kids' clubs are open throughout during high season: 5 days a week, 4 hours per day:
Monday, Tuesday, Thursday, Friday: 10am-12pm and 3pm-5pm
Wednesday: continuous from 10am to 4pm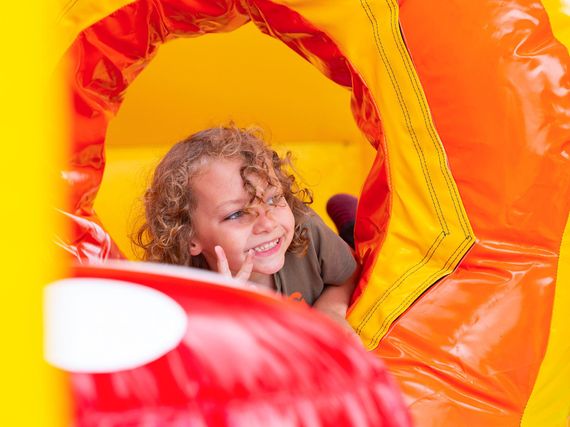 • Wednesday: continuous from 10am to 4pm
The children's clubs are great. But having campsite facilities just for your kids, is even better. They'll be able to get together in the playground to run around and work off all that excess energy, on the bouncy castle to jump higher than anyone else or in the paddling pool to splash in the water games.
As for the teenagers, they won't want to miss a chance to head for the multisports ground and a host of fast-paced matches: volleyball, football, basketball… Except perhaps, when they're too busy on the ping-pong tables! So yes, your little darlings are going to spend a marvellous holiday. And their joy will be your best present ever!